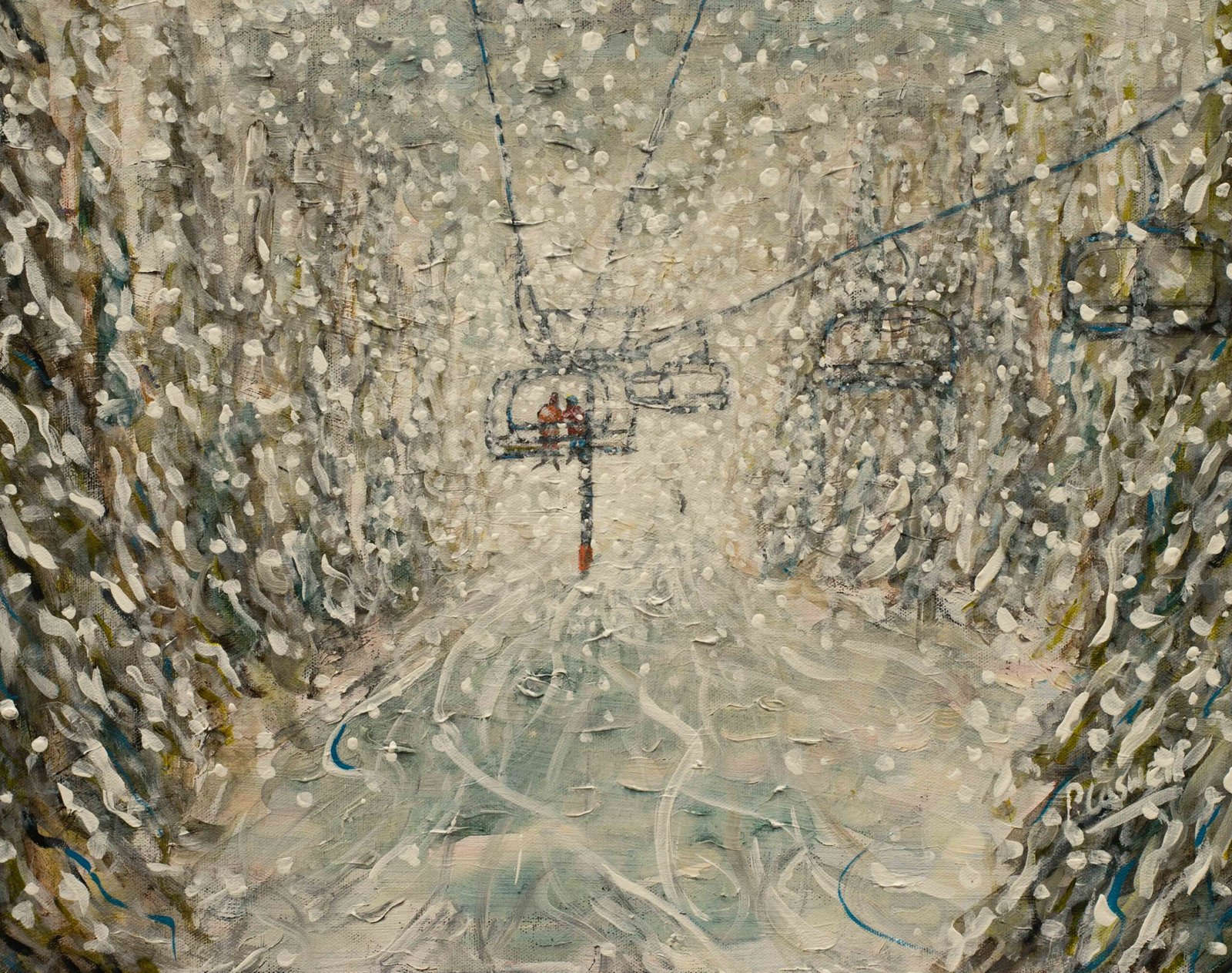 What makes these paintings so much fun. Its all about a feeling, that special feeling, the one which makes you feel just exhilarated, happy, fun and free. Its all in the painting and the painting is all in the snow.
When I started to paint ski resorts I tried so hard to capture that very special, very free and very beautiful inner feeling which seems to make you glow from the inside out. Its the mountains, the air, the buzz of the lifts, the cold dry breeze, the intensity of the rocks, the peaks, the views. Then the thrills and the spills , the soft powder landings, the relentless turns, the jumps and hops, banks and trees. Over all this is cast the the bright sunny light beaming from Dawn to dusk, the perfumed scent of snow vaporising in the drip drip of melting ice and daylight so intense it has a noise in it. As skis descend the sweet smell of pine fills the air as you descend to the peace and warmth of wooded slopes below before the clanging whirring lifts swirl you back for another go.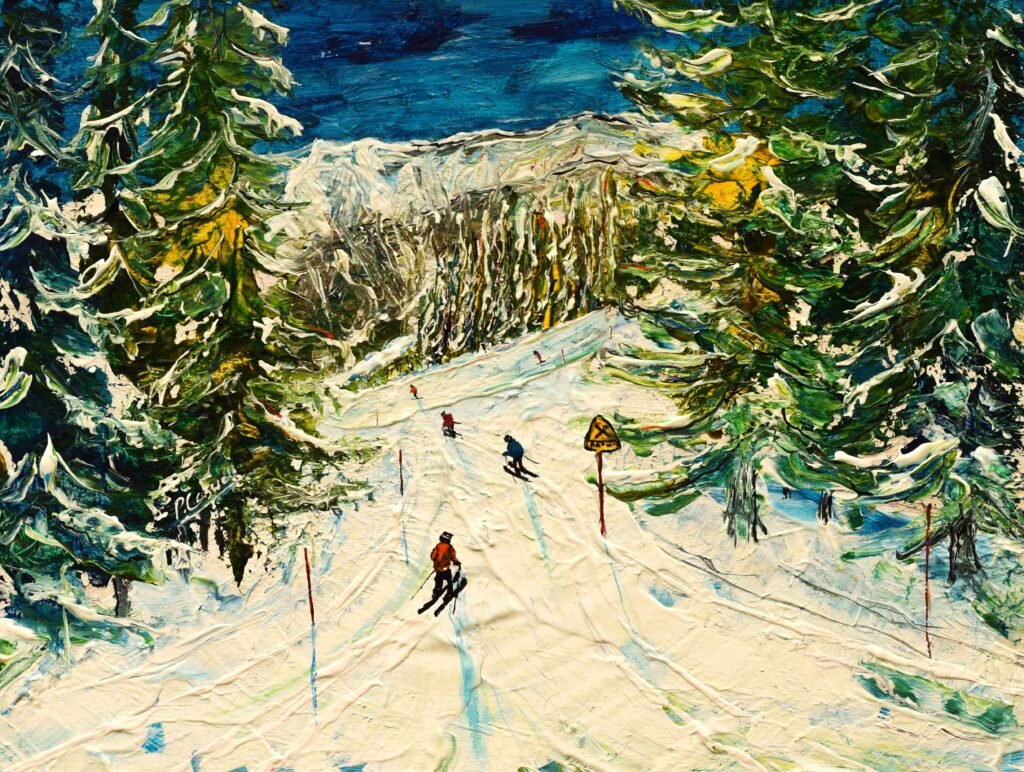 From this spawns the great scenes of the mountains of rocks, of heights, drops and cliffs, topped with snow and mighty peaks. All scaled by great machines of whirring humming power gliding you cleanly and peacefully without effort back to the top.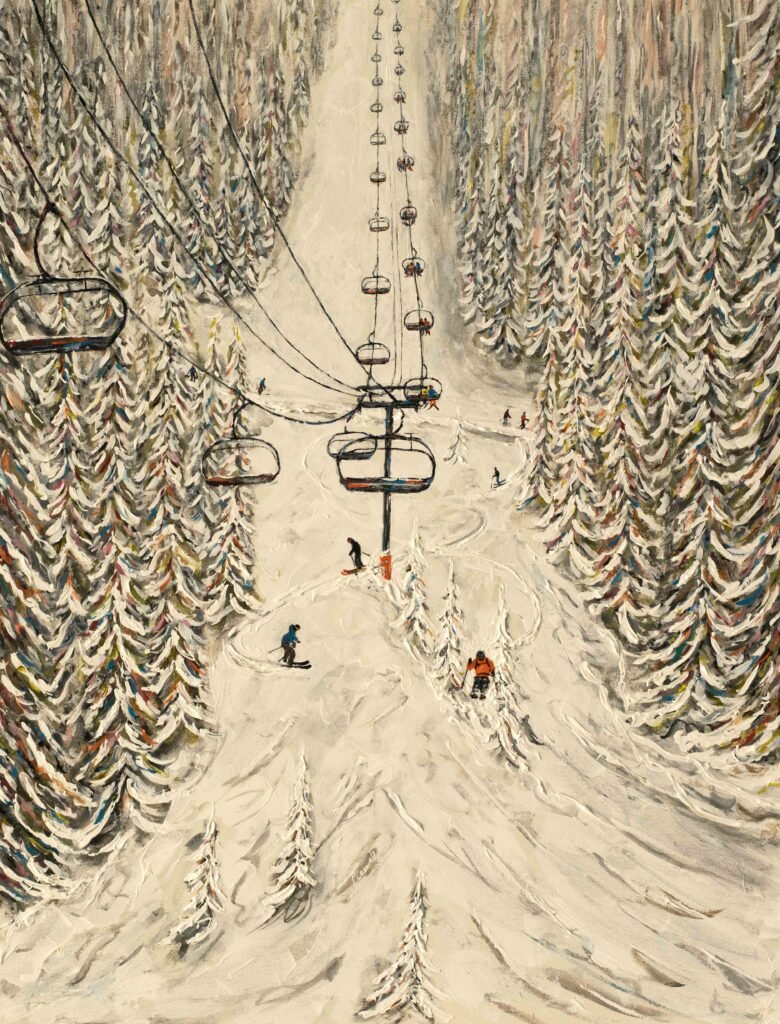 And in the day of powder before comes the very special time if you are brave enough to try. In winds and storms and blizzards of white, of tingling fingers and only white so bright. Inside this cave of whitened snow blown which hammers like pins across the cheeks, and into mouths and across your eyes, tipped down you neck and up your pants. On the lift in total white a howling wind in the trees above, but within as white around is peace inside, a warm glow sheltered from the icy cold by layers and layers, but still waits and waits for that Cafe, coffee, croissant and burning log fire. and maybe something a little stronger or maybe a fresh pot of tea.