Paintings signed with the signature P. Caswell. Do you have a painting signed P.Caswell or P Caswell ? Well you could be in luck because this is the signature of the Artist Pete Caswell who was based in Devon having spent some of his early career in India. Pete's paintings began in India with many Indian scenes of places he visited on his travels including Meherabad and Meherazad in central India.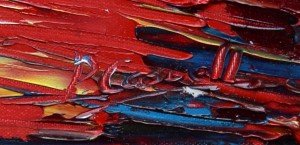 Following many stays in India he moved to North Devon where he based his painting business and became popular for his beach scenes from the West coast of England with a particular slat towards colourful sunsets and beach reflections.

Following his passion for skiing Pete later specialised in the sking and snowboard resorts of the Alps, starting in France and then moving onto Switzerland and into Austria.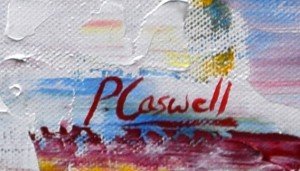 Look out for Pete's signature on your paintings P.Caswell. He rarely signs his paintings with Pete Caswell, but in 2015 he also began signing his paintings on the back in soft pencil and dating them with the date of sale. To see if you have a genuine painting contact Pete Caswell's studio office. To date at 2016 no limited edition prints have been issued but he has commercially sold prints of his paintings internationally in relatively large numbers.
Sometimes in heavy oil or acrylic and sometimes scratched into the painting surface with a line under the P.Caswell. These paintings will be found all over the globe with Pete Caswell making regular sales to many continents as far as Australia, USA and South Africa.  Many paintings can be found in the most exclusive chalets and apartments in the European Alps and some starting to make their way to the Ski resorts of the USA and Japan.