Ski Mugs and Skiing Mugs by Pete Caswell designed from Pete's famous ski art and ski paintings from his favourite ski resorts around the world. Please also see the shipping and ordering info below.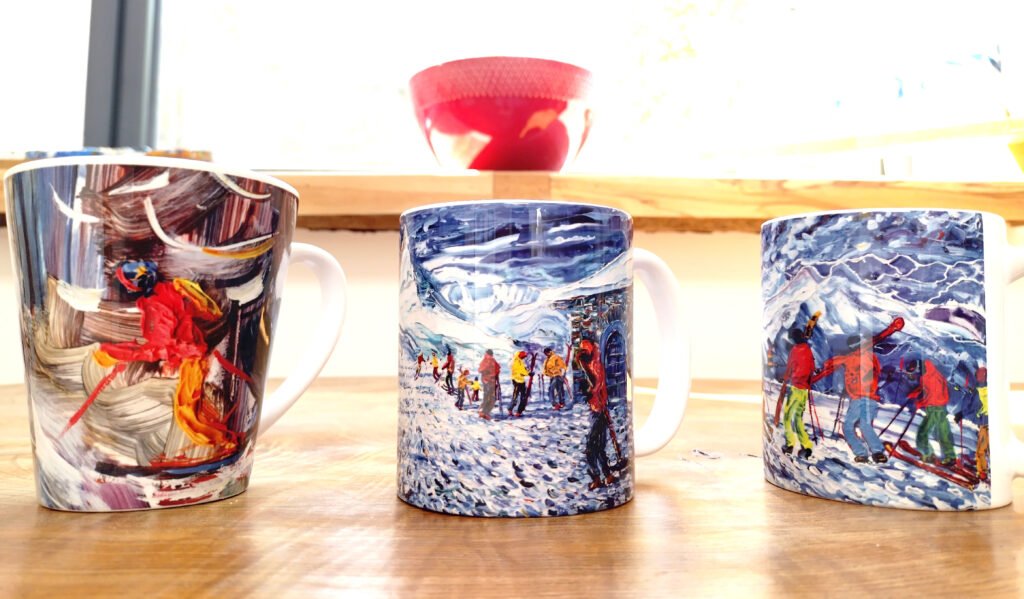 Pete has loved to design all these incredible designs using full size ski paintings and tiny little sections taken from some of the larger paintings. These sections help to give you a real feel of the depth of the atmosphere in these paintings and show some of the incredible textures and colour combinations Pete Uses.
Check out the Ski Mugs on the international ski mugs site & snowboarder mugs which will ship you order anywhere in the world or check out the snowboarder mugs. Some are in mini collections listed by resort and below are the entire collection of ski and snowboard Mugs.
UK shipped Ski Mugs If you live in the UK Pete has produced a Small Set of Ski mugs from a UK manufacturer which ship quicker. Free UK shipping only. These are only for UK shipping.
Shipping & Ordering info – These mugs are ordered from my print site on Fine Art America. I recommend ordering the smaller 11 oz mug it's more delicate. The larger mug is also great if you need a large one but I don't think quite such a pretty style.
The shipping is £4.50 to the UK & Australia, even though it is shipped from the USA which is very reasonable. It was delivered via Royal Mail but it did take nearly 3 weeks to arrive so be patient. I didn't get a shipping notification but they all arrived well packed via Royal Mail 48hr tracked. No customs hassle either – I checked this out so the print firm send from USA to UK then it is re labeled and sent on by Royal Mail within the UK. According to customs rules as long as the order is below £130 there is no vat or duty to pay as the shipper pays this. A benefit at last of leaving the EU….shipping from the US is much improved. Don't ask me what happens over £130 ? I am not sure also what happens on Australian imports either.
You can see just ski mugs or if you are a snowboarder then check out the snowboarder mugs