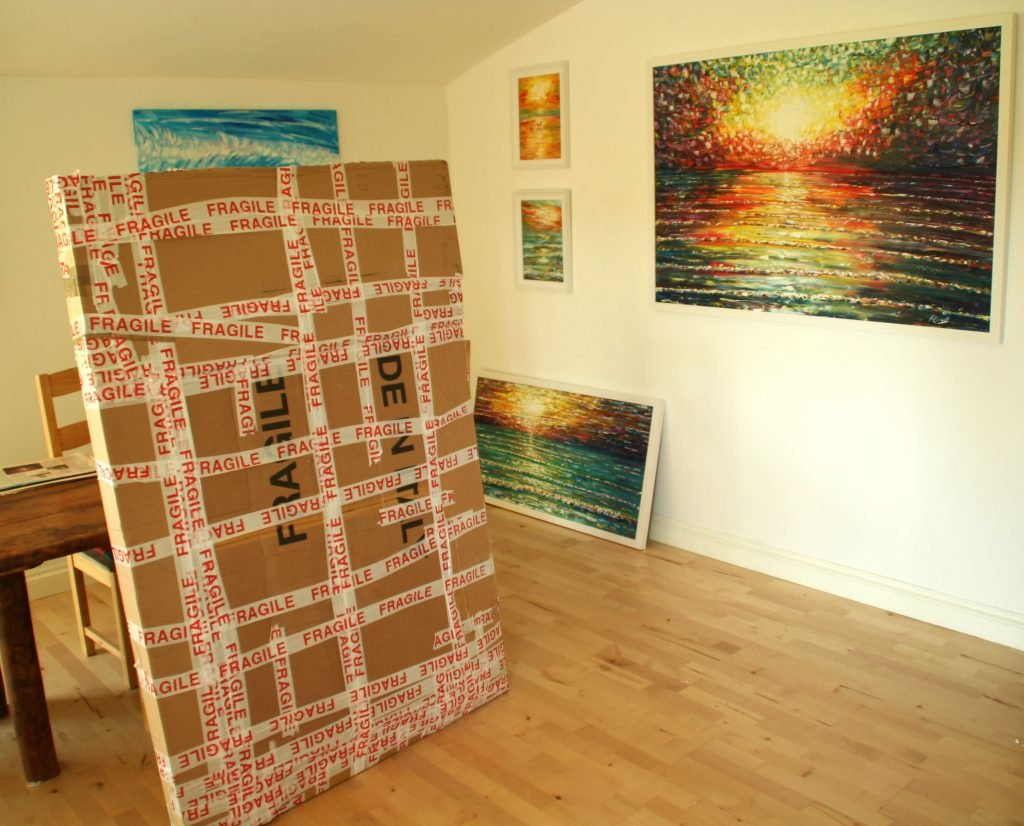 You can buy online using a credit card or with Pay Pal.
For your convenience the default order is the email order option on the checkout. Use this to confirm shipping information or queries you have, arrange framing and pay once we have finalised all the details such as delivery dates. This is the best way to order for international deliveries so we can get an accurate shipping quote. You can also use the Paypal / credit card option to pay straight away.
If you are not happy for any reason with a painting please return it for a refund (less the shipping & packing cost & card processing fees). You can contact us in the studio in the UK if you have a problem.
Free Shipping on all Paintings For Sale
All m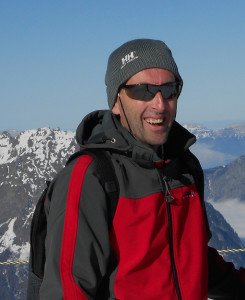 ainland UK shipping is included in the price – Its free! . We only use 24hour next day delivery in the UK, insured and tracked. For certain areas of the UK or for the larger paintings we sometimes have to use a 2-3 day service. We always pack the paintings well.
For European shipping,  Switzerland  & USA Shipping. Please use the email order option so we can sort out shipping costs and timing to your satisfaction before you pay. Shipping costs change all the time so do email for a shipping quote as the site shipping costs are set to default values. I am currently trialing Free Shipping to the USA with one of out carriers so take advantage of it while it lasts.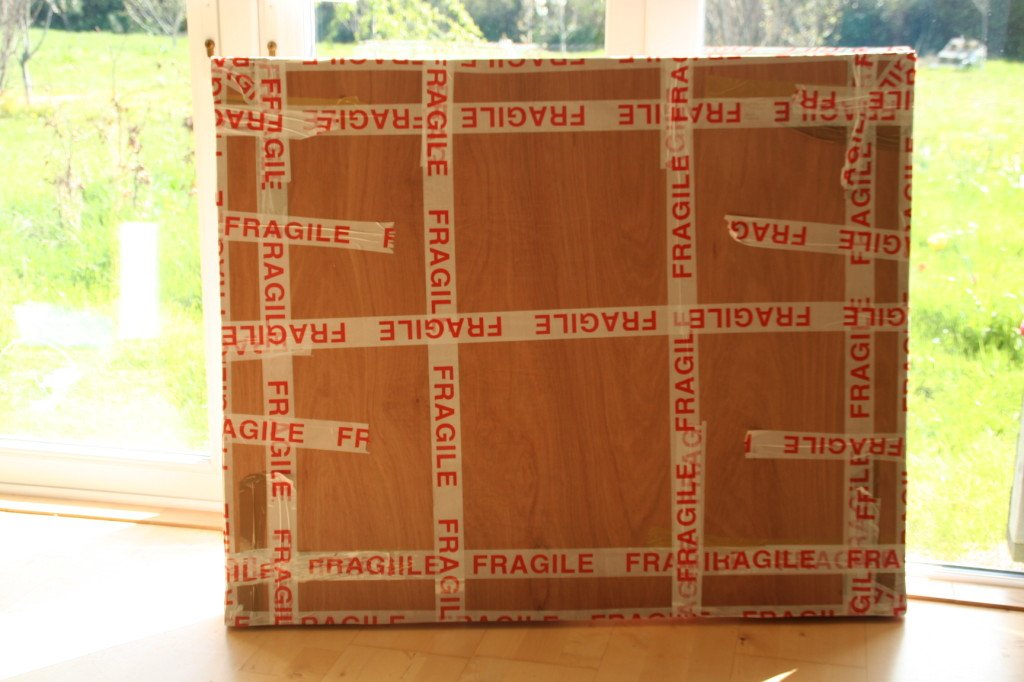 If you need the painting urgently give me a call and I can confirm delivery time and payment. If you are in the UK I can get a painting to you by 1pm the next day Monday to Saturday by Royal Mail or Parcel Force. It's a fantastic service, trackable & guaranteed by 1pm next day, delivered by the postman. 
Commissions
If you can't find the painting for sale or info you want, just send an email or call and we will do our best to help you no problem. Just tell us  what painting you are interested in buying even if it is sold and we will sort out something similar for you no problem or a commission for the same price. We usually ask for a small deposit for a commission and you only pay the rest if you like it. For more info see the link on commissions – https://petecaswell.co.uk/wp2/ski-painting-commissions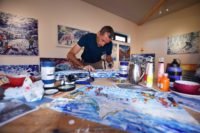 Returns
If it is not what you want for what ever reason, refunds are always available on all paintings less shipping cost and card transaction fees if returned within 28 days undamaged & by recorded delivery.
If your painting is damaged in transit, then please contact me and we will arrange for the paintings return and full refund.
Contact by phone  tel – 00 44 (0) 1271 816776  0r   mobile UK 07999 809 865
Note "shipping cost" is the cost paid by us to the courier to send the painting to you.
Imports Taxes & International Shipments
If you are ordering from outside the UK as well as shipping costs there are also Import duties and taxes.
Original paintings are usually free of import duty but Sales tax or VAT is usually applied at the port of entry into your country above a certain threshold. For Switzerland this is currently around 8% VAT or sales tax.
The USA has various sales taxes depending on the state and various thresholds. Above $2500 you usually will get charged a state sales tax. Below this threshold seems to vary depending on the state. There is a generous minimum threshold for sales tax in most US states. We unfortunately can't undervalue the art purchase price to reduce the tax as we have a tax id number for exporting and it has to be correctly documented to protect our export reputation.
Due to current regulations we now insist on the purchaser providing a valid tax id or social security number for the US Customs to avoid the paintings getting held up at customs, causing delays and extra processing . This also applies to most other countries now where our couriers need it to complete the documentation correctly to enable a swift passage through customs and is a condition of sale.
It is the buyers duty to pay the import taxes and any duty and provide the correct information to Pete Caswell to prepare the shipping documents and to the receiving countries customs and tax authorities. Its generally a straightforward process. When the customs are busy it can result in a few days delay to the shipment.
If you need to return an internationals shipment we will refund you for the purchase less the cost the courier charges to ship it to you. You would also have to pay the return shipping cost which we can help you to book. You must make sure the parcel is marked as a return so we do not get charged Import VAT. After 15 years and 1000's of paintings we have only had 1 international return so hopefully that was a one off. 
International Shipping costs.
If you are buying from outside of the UK, then it is advisable to use the email order option and I can get a quote for the delivery, especially for larger paintings. Prices vary all the time and for Europe and the USA I can quite often get a good price and reduce the default delivery cost for you. We charge the shipping out at cost price or less so its good to check.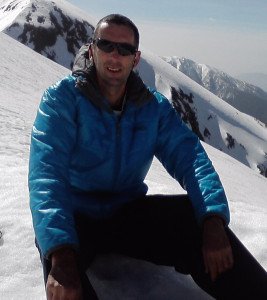 Some large paintings are costly to send internationally and we reserve the right to change the default charge for the shipping of

paintings for countries outside of UK. The shopping cart gives an estimate of shipping costs outside of the UK and sometimes these shipping costs can vary a lot. We do absorb as much as we can of any minor changes but occasionally the shipping cost is more than the painting. In these instances where we cannot ship to you for a sensible price, we will refund your money.  Use the email order option on the shopping cart to check the shipping cost first before you pay for international orders.
We reserve the right to refuse shipping to certain countries if the cost is prohibitive or fraud is suspected in which case all monies will be refunded. We only ship via reputable registered delivery to Africa, Russia(currently not possible) and the Middle East countries in which case there may be a small surcharge depending on the quote we obtain for the shipping. We obtain the best shipping cost we can and only charge this out to you at cost.
Import Taxes & UK Vat
UK Purchases- We do not charge vat on the paintings so there is no Vat to refund on export.
 Most countries do not charge import duty on original paintings, but some do levy sales tax. In the  event you are charged import duty or sales tax it is the buyer's responsibility to pay the tax.
Important Note if you return a painting from outside the UK, please ensure that you clearly state on the parcel and the customs form that it is an "unwanted returned painting / goods" and enter the correct value of only the painting you are returning so we can refund the full cost of the painting.  Please contact us before returning a painting so we can advise the of correct information for the shipping documents.
Copyright
Pete Caswell retains the copyright for all his works, including commissions as is standard for any artist under Copyright Law. Ownership of a piece of art or commissioned art does not convey the copyright to the owner, it still remains with the artist.
However Pete Caswell does allow for limited reproduction of small prints and cards of the purchased piece of art solely by the purchaser and only for gifts to friends and family of the purchaser (of the purchased piece of art ). This is providing the print or card is a gift and not a commercial transaction or one in exchange for money or services. No reproduction online or for advertising purposes are permitted or for profit or exchange.
If you wish to obtain the copyright of any works you should contact Pete Caswell directly for written permission.