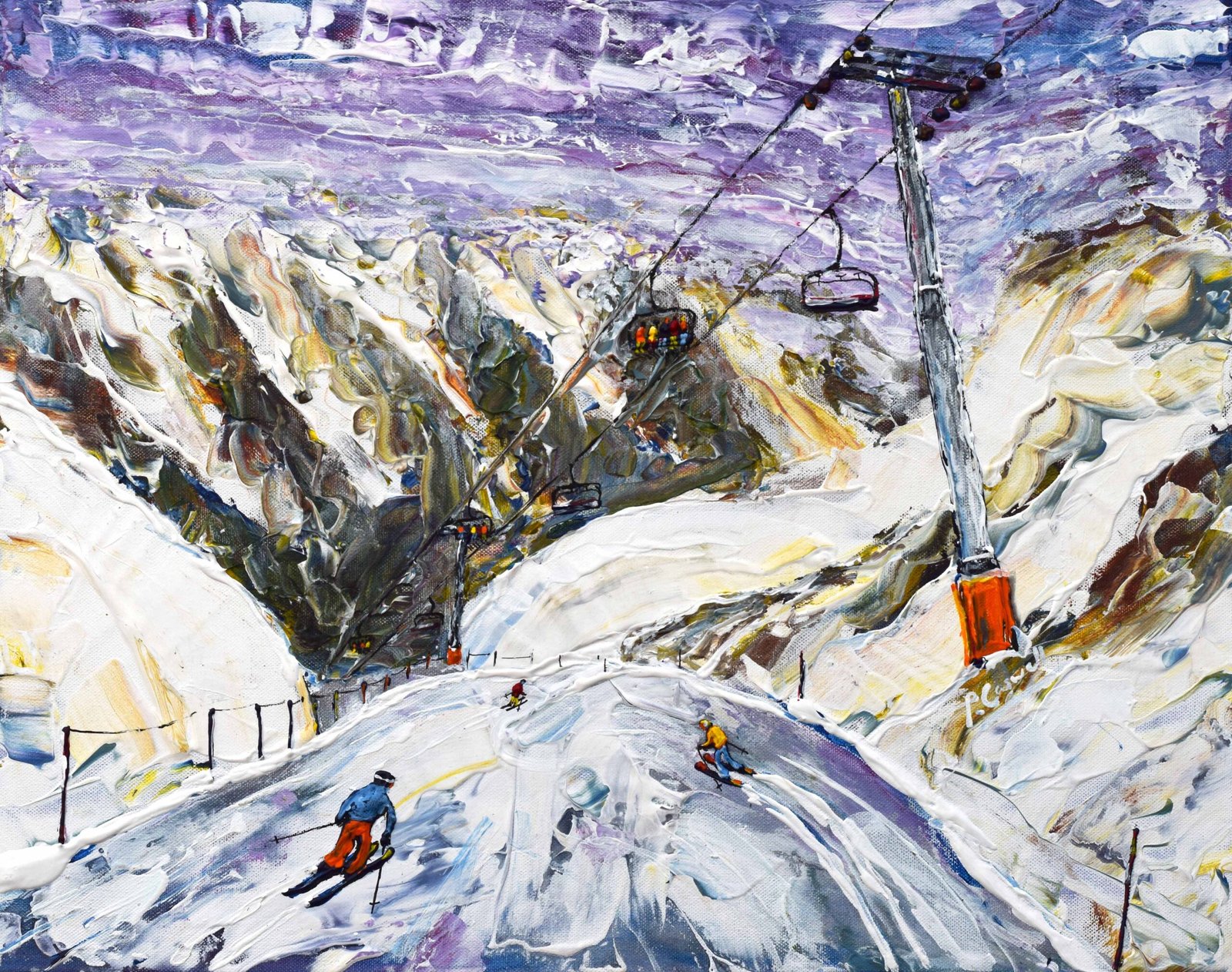 This series of paintings, is all about a feeling, a quite incredible feeling. I am trying to get this wonderful feeling, a special moment in skiing across to you.
Its all about a trip to Argentiere near Chamonix, made all the more special by some well timed powder several years ago.
It started in the UK, car was packed and as soon as there was snow and a lift spinning I was off. As this was before I started obsessing with the ski forecasts this is not quite correct, I was desperate and I just went as soon as the lifts were due to open at the end of November and didn't even think to check there was snow, I was just naïve.
A quick drive to Portsmouth from North Devon and a sleep on the Lounge floor of the ferry across to the port of L'Havre in the morning. A damp cold and chilly 6am start with engines running, the clanging of anchors and doors and off I went with GB plates in tow and headlights duly adjusted speeding across the French autoroutes. Whoops did I say speeding I meant driving at or below the speed limit.
At Max speed I drove across the motorways of Northern France as I closed in on Chamonix and thinking I had taken note of every speed camera and checked my speed carefully, it was not until I arrived in Chamonix I realised the endless 90kmph limit on the overhead gantries due to pollution really was the speed limit. Wow if only I had know sooner what a shame.
Coffee was called for on numerous occasions to keep the eyes open, but as usual this was pretty dreadful French coffee which seemed to assalut my taste buds, all too used to the USA version. So I kept trying hoping that at last one would turn out to be the beautiful taste sensation I was after. You can make up your own conclusions here.
Here is where it gets really special. I had not had the foresight to check the conditions only that this was the first day the lifts at Argentiere would be open so like many artists who can have their head stuck in the clouds, blind to the reality of the situation about to unfold, this was no different…….but wait, this is the one time in life when it unfolded the other way, Murphy's law was defeated, really amazing, well almost perfect anyway.
As I crossed the White motorway, L'Autoroute Blanch, above Geneva, there was snow on the tree tops and snow even on the ground. I could feel the excitement inside. At least there should be snow there I thought?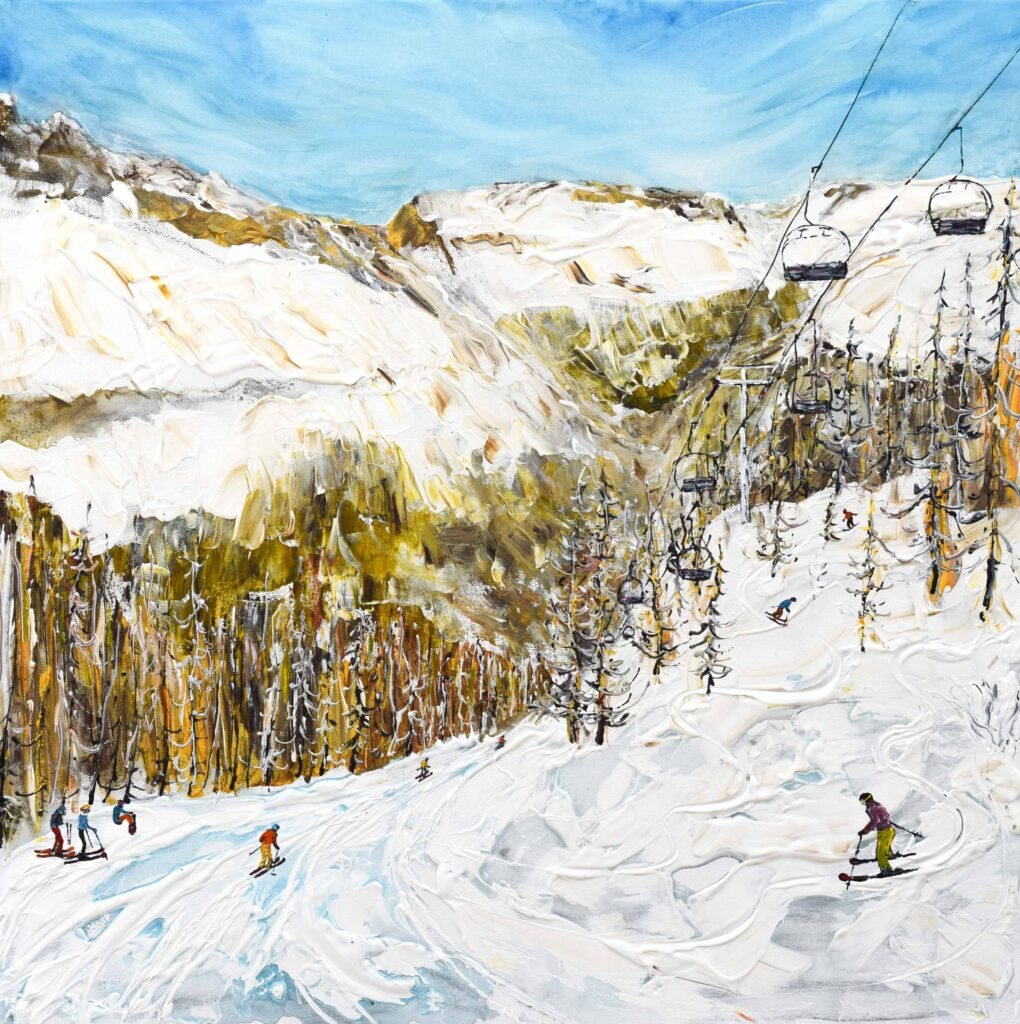 As I drove on past Geneva and the customary boarder inspection singling out all dodgy unshaven young UK males in beat up old cars. They didn't take kindly to my helpful words of explanation in French so with a lovely French grimace and wince, sent me on my way. I drove up through the wonderful approach to Chamonix past all your favourite names, Flaine, Morzine, Megeve, so many wonderful memories, so many evocative names and such wonderful mountains. It was beginning to cross my mind that there was indeed some snow, but the quality and quantity really had not sunk in.
I approached Chamonix at about 3pm, a little tired but totally elated by the stunning views and the mountain vibes and fbracing fresh air. For my first Chamonix experience, it just blew me away it was epic. As I approached the accommodation heading towards Argentiere further up the valley, I started to notice the snow was piled up higher than my car at the side of the road. This was what I loved, head height drifts at the roadside, so unbelievably exciting, like I was a child all over again.
The next few hours took a little turn downhill but not too much as the French hotelier showed me to the worst room in the totally empty hotel and so I consoled myself or rather couldn't think of anything else but the powder, so I was oblivious and settled I. It took a while for my senses to adjust but the carpet was drenched with a puddle in the middle and a little stream running through the door. My head was so full of powder that I had barely noticed and this was a proper hotel not a mountain shack. So this lead to a lucky room upgrade out of the pokey leaking dingy loft room without a view to a lovely double room with a stunning view down to Chamonix. Breakfast turned out to be a bit disappointing with some terrible coffee, synthetic cheeses and wobbly ham so I skipped across to the bus with snowboard in hand. No skis today, just too much powder to leave a board behind. No sooner had I put my board down and a lovely English guy pulled up and took me up to Argentiere in a car more battered than mine.
So this is nearly where the paintings start. I had not done a start of season before and this was still in November and so everyone was just as excited as me waiting for the now replaced classic old cable car up to the top. There was no music but the atmosphere inside the tinny Gondola rocked like a ….yes a huge rock concert, a deafening one, but it was so crispy quiet except for the thumping of boots clanging on the metal gantries and the cable car floor. Steamy breath and excited hushed voices. It was so exciting it made for wobbly legs with all the adrenaline. As one of my first early season skis I had not quite realised that they might only have 2 or 3 lifts running, but in thigh deep and waist deep powder it was more than ample.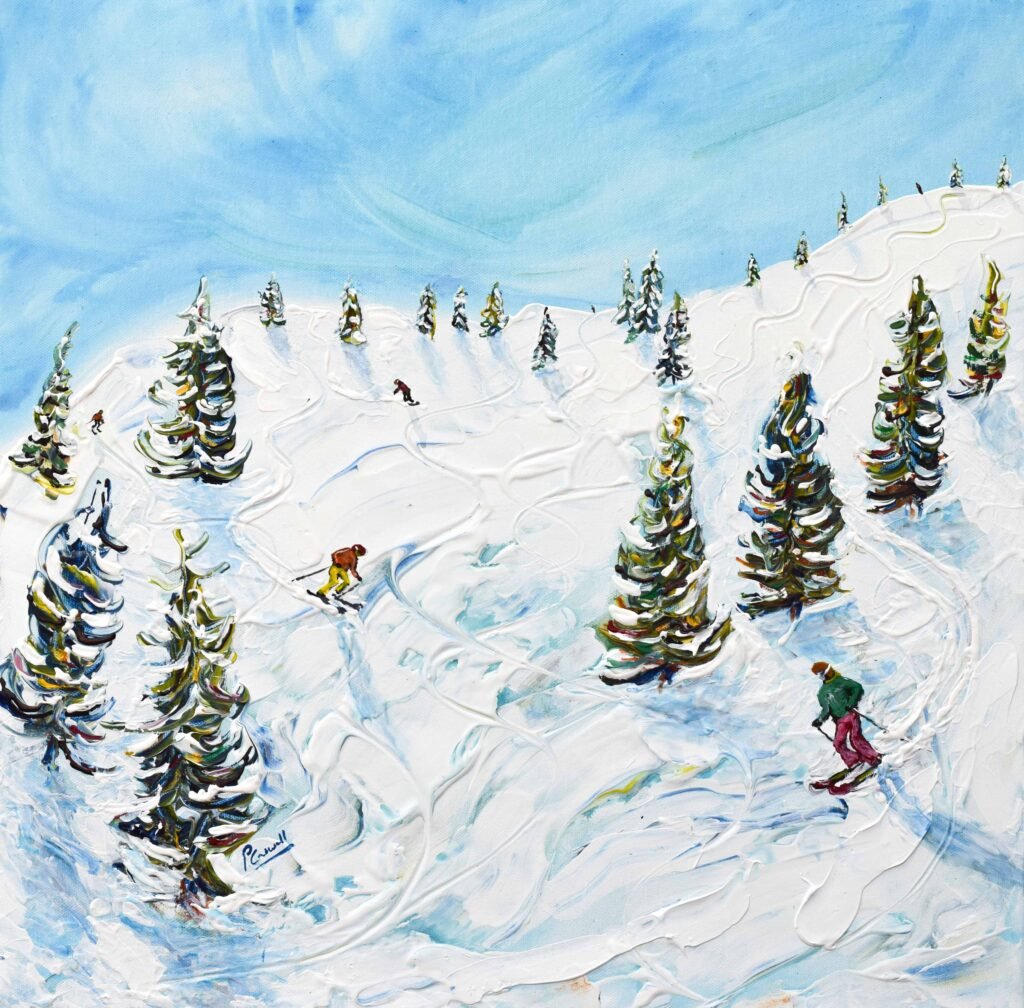 The place was epic, the atmosphere you could stir with a spoon and the snow would blow away in a light breeze……it was a cold smoke day. How had I missed this?
First day of the season, over a meter of fresh powder and blue sky……coffee was still terrible though. I set off up the first chair. Glancing around, everyone had powder skis or boards, this was a proper place to take on the powder. Despite my most careful preparations and being very fit, by 10.30am I was absolutely burned out, knackered in polite English. No queues, run after run in fresh deep powder, turn after turn of uninterrupted bliss, through the trees, over the rocks, the jumps and banks. Straight down, no tracking accross to find fresh tracks, they were everywhere.
Unbelievable, but my legs could not keep up. It was as if the legend of Chamonix, the history, the mountains had distilled and become super concentrated, poured into mountains of Argentiere and then had exploded into real life. I was on such a high, and not from the coffee, I thought I might pass out… But I got it under control with breakfast mk2 and with recovered legs set off again. By the end of the day I was totally done without barely a leg to move. The long bus queue and the not so good evening meal brought me back down to earth so I could sleep ready for the next day.
The 2 day weekend at Argentiere was probably the most atmosphere I could take anywhere and so on Monday with lifts closed until the next weekend I took a 6am drive through the Mt Blanc tunnel to stay at a historic old hotel where the powder days started all over again in Courmayeur. The Mt Blanc snow magnet just kept playing every day with plenty of blue stuff in between. Courmayeur in the early season with barely another person on the slopes made me feel like I was skiing in Heaven. Even the red and black pistes were virgin powder for days and the little dinky cable car to the top was resplendent with 2 guides as lift attendants to pick out the best line of descent back down. The coffee was unbelievable and at just half the cost of the French version and with a wonderful croissant thrown in, a beautiful smile and a little bit of pleasant chatter about the weather and I wasn't sure if I was back in the UK or had gone to Heaven. The wonderful waitress woke me from my much needed morning nap and back to powder I was forced to go.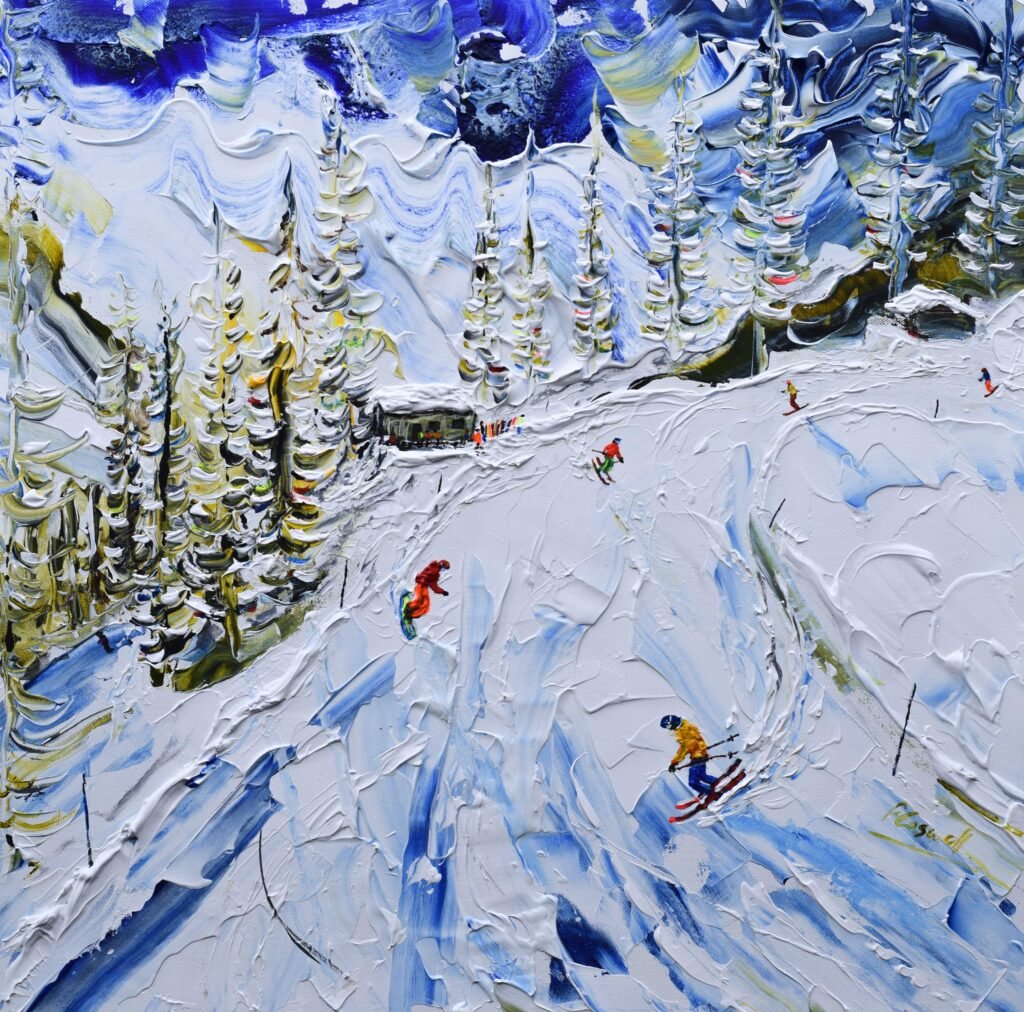 What was most wonderful about this trip was the rather quaint very ancient Italian hotel I had booked into, so friendly that when I was in my room half freezing to death I really did not want to bother them to turn up or turn on the heating. Eventually I got over my over timid polite Englishness and braved the reception to ask for more heat. When I saw the receptionist sat there with heavy coat, gloves, wooly hat and scarf on I realised it was a futile effort and returned to being wrapped up in Bed. It was such a wonderful stay, despite the cold weather indoors, as being the only guest I was summoned to the family meal table every evening to have a wonderful meal with the them and they took great delight hearing about Landrovers and the filming of All Creatures Great and Small which they were great fans of and had been filmed near the Family farm in the Yorkshire Dales.
Better still this Italian resort was still in early season, wonderful and quiet. So much so I though I was in 7th Heaven as not only was the off piste not touched but at 11am I was untroubled by my usual dilemma. Do I take a break at 10.30am and a much needed coffee ? Or will I return to the powder fields and find them trashed and tracked. No such worry here, not only was the off piste deserted, but I could even make fresh tracks down deserted black pistes…even after my morning coffee. Maybe I had found a little gap in the world where the normal rules didn't apply… But my room was still like an ice cube so it didn't cover everything.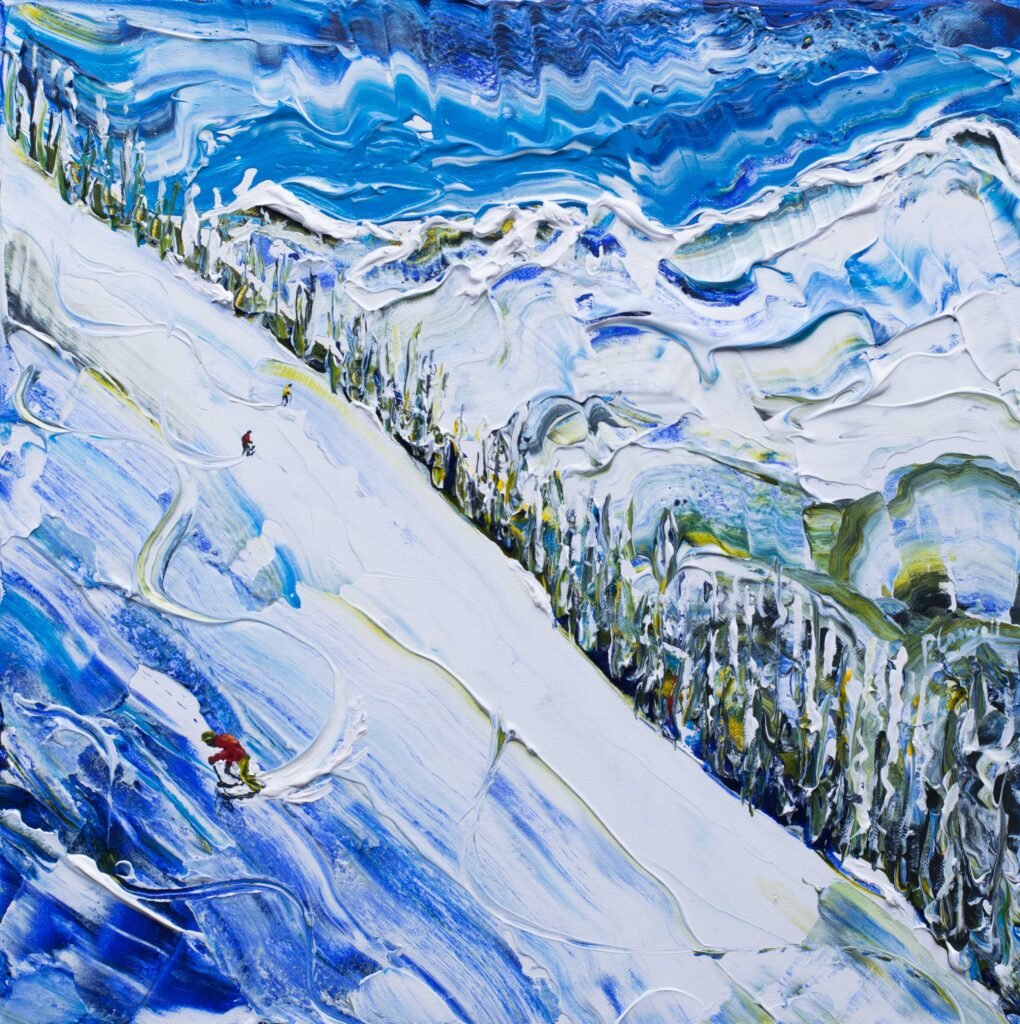 Fun over and the trip part 1 was complete. Next was to dig the car out of 5 feet of snow for the 3rd time in a week and collect the family to head to Verbier. Destination a deserted little village at the bottom of a huge Cable Car leading up to the best off piste in the world with no queues on a powder morning ever. We were heading for some of the best off piste skiing I had ever skied and Heaven had followed us too….. and the room was toasty warm and so were the ski lockers and the floor…but that is another storey.