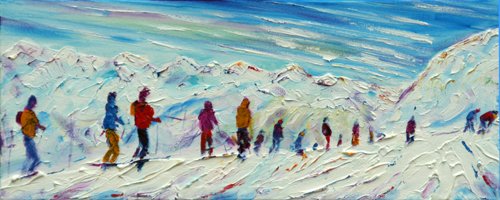 I love Tignes and Val d'Isere ski area. It is awesome and unforgettable. My very first skiing and snowboard paintings were based on this huge ski area and I have been returning to this area as my main motif ever since. This painting is a real beauty setting off from the top of the Grande Motte cable car with wind blown snow whistling around your ankles.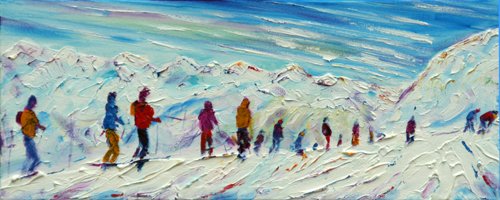 The cable car terminal is a photographers delight and I have recently made a short film about this special destination which will be released soon. The Glacier itself is a perfect gradient and the snow conditions are often perfect with the peak acting as a bit of a powder magnet.
The Grande Motte glacier is one of my favourite places in the world. Arriving at the top of the funicular for the first coffee of the morning is unforgettable and the place I always start on Christmas morning skiing. Then onto the top of the glacier via the Grande Motte cable car. The top of this cable car is very special to me. I find it an extreme and exciting place, right next to the peak of Grand Motte towering above with views spanning out in every direction.

This is one of the most classic ski paintings I have done. sat at the cafe at the top of the Funicular at Tignes with my morning coffee painting the skiers and snowboarders as they race towards the first run of the day or catch the first cable car. The line of skiers racing past with the cool ski instructor in red  just chilling having seen this over eager race for season after season.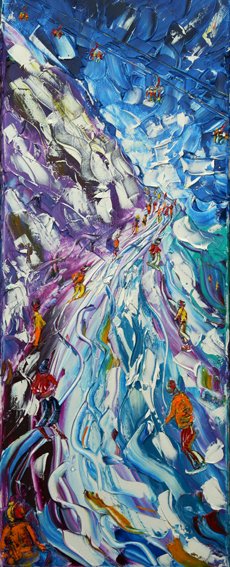 Top of the Henri piste at Tignes and Val d'isere has been quite a subject for me with the Tufs chair lift overhead and the piste seeming to disappear into the sky in the ever expanding distance. It always raises the thought in me as I stop at the edge of the piste to check out the off piste drop to paranoid piste. So wonderful and fun with the steep descent opening into a beautiful powder field and then opening to a full speed blast across the lower slopes. But watch out for the unexpected lips of powder dropping into shallow bowls.
Check out the video below of some skiing and snowboarding in Tignes and Val d'Isere and some of the paintings of these famous pistes and lifts.  And see why you have to be careful on the off piste descent from top of Henri piste.
More videos on my Chanel www.youtube.com/user/petecaswellpaintings