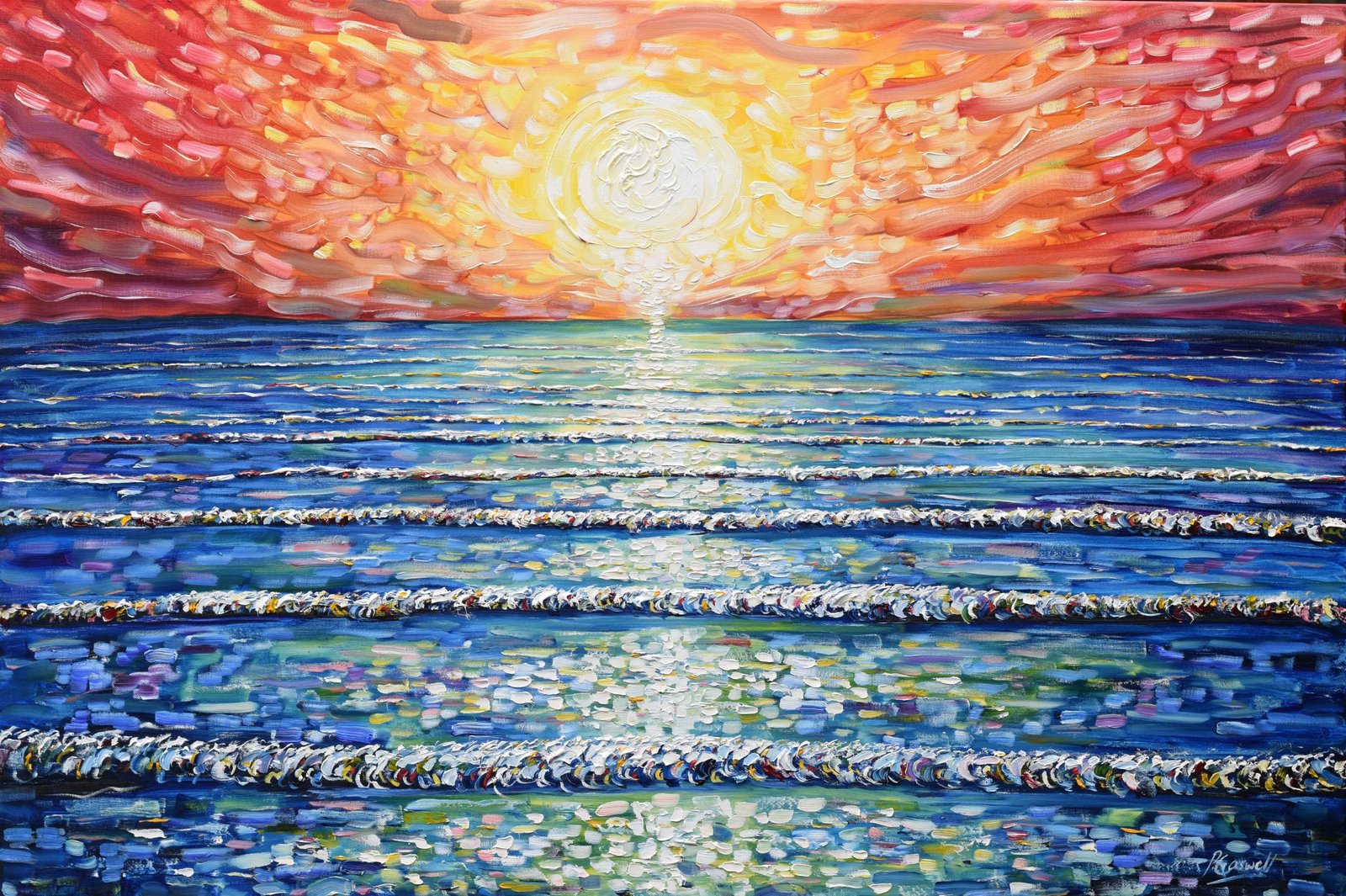 Sunset Paintings aren't a subject you would normally associate with Ski Artist Pete Caswell who has a cult following among those in the know in the ski world.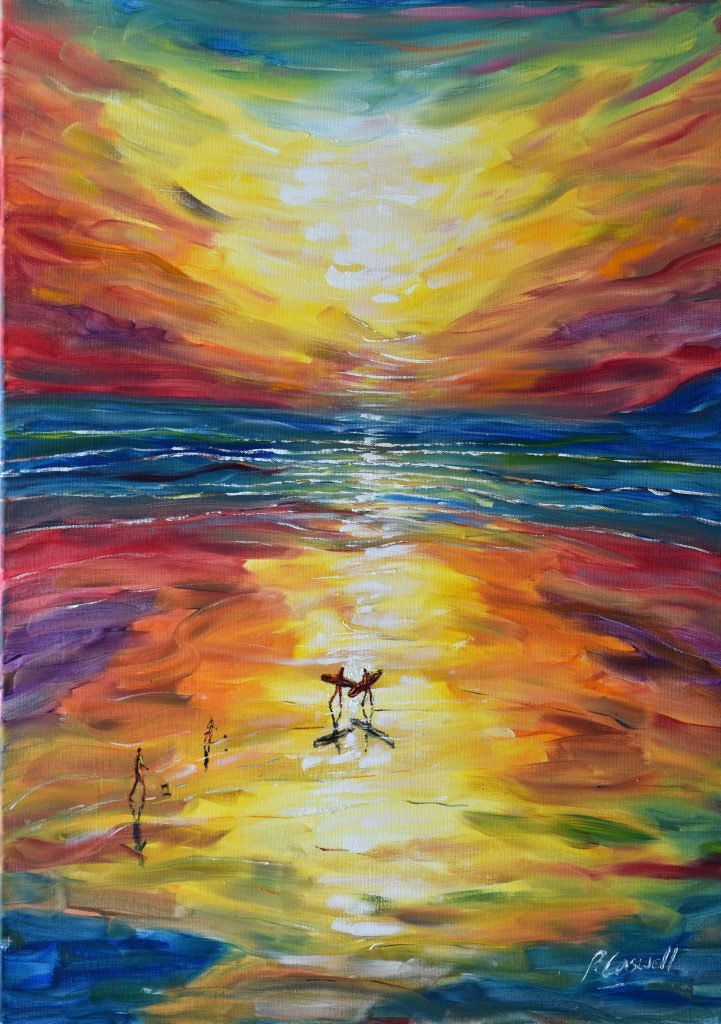 With the Ski Paintings fetching upwards of £2000 for the larger pieces you can still pick up a beautiful colourful large Sunset painting by Pete for less than £1000 and a Sunset Ocean Print Printed in the USA and Europe . For 20 years Pete has been painting these unbelievable sunsets from his Art Studio near the West Coast UK in Devon.
After a hard winter of skiing and snowboarding in the European Alps, Pete returns to his home and studio in Devon to work even harder surfing and occasionally squeezing in painting the epic waves and sunsets which roll into this West Coast paradise.
"Its a blissful place at sunset and everyone should be able to share a piece of it. In fact it's just about Bliss all the time"  Take a look at Pete' Sunset Prints.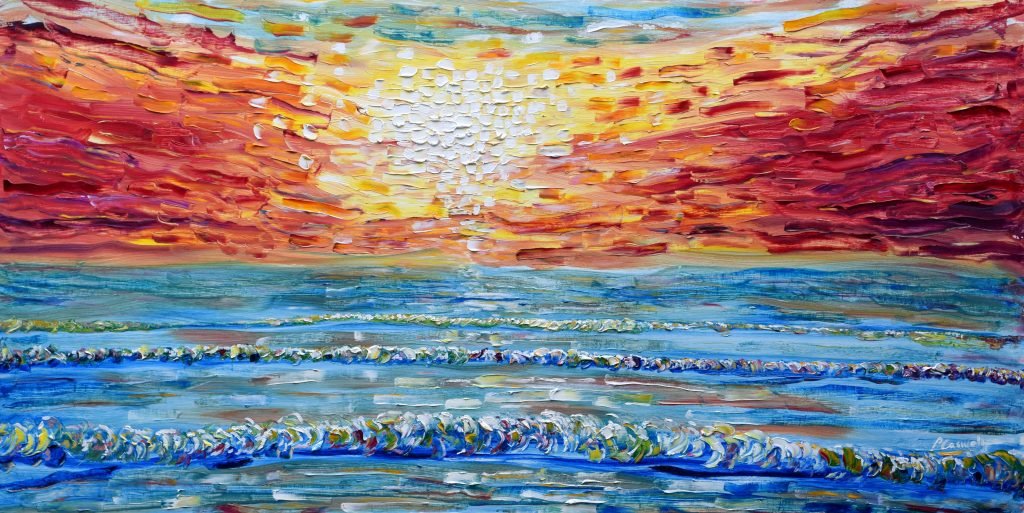 The beaches in North Devon are an endless source of colour and light for Pete, with wide vistas, endless skies and beautiful beaches. Saunton beach which is just minutes from the studio and the scene of many famous films, photos and album covers. It has a mirror like reflection in the sand when the tide goes out and this creates a wonderful effect for Pete to capture on canvas.
You can get a glimpse of Pete's summer ocean lifestyle the sunsets and ocean scenery in this historic short video.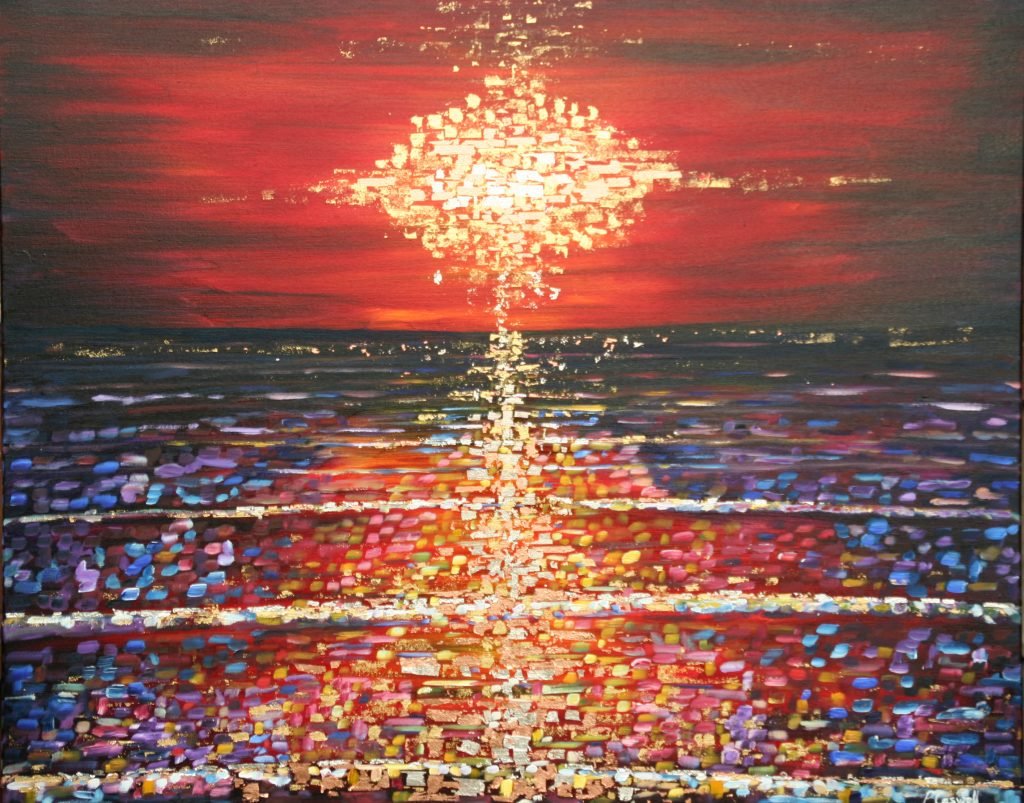 As part of his Sunset series, Pete spent several years travelling the globe following the rich and famous in their beautiful yachts hosting some wonderful sunset sailing exhibitions to display his paintings.
You can take a look at some of the original sunsets at https://petecaswell.co.uk/wp2/product-category/sunset-paintings/
and sunset sailing paintings at https://petecaswell.co.uk/wp2/product-category/sailing-paintings-for-sale-2/
Sunset Prints at https://pete-caswell.pixels.com/collections/sunset+paintings
Sunset Sailing Prints at https://pete-caswell.pixels.com/collections/sailing+and+yacht+paintings
But do check out the shipping info on the prints below
IMPORTANT UK & Europe Shipping info for Prints if you live in UK Europe.
(If you live in the USA then everything ships from USA so please ignore this section)
The simple option is to order a Print or Canvases Print from the Back Catalogue (https://pete-caswell.pixels.com/art ) as they ship from UK or Europe if you live in Europe – If you add a frame to the Prints it gets more complicated as they ship from Europe and USA . (also if you add a frame to a canvas). Acrylic prints only ship from the USA.
If you live outside the USA then either order a print and get it framed locally which is a cheaper option or order a Canvas Print which doesn't need framing. The normal prints unframed are printed in the UK / Europe.
You can double check the shipping by the flags next to each item in the checkout.If you want to order a framed print and you live in the UK / Europe then add the framed print to the cart and at checkout check the flag next to the order. You want to see either a Netherlands or UK flag but not a USA flag. Some frames only ship from USA and some from Netherlands. Contact me for assistance.
If you order a frame from USA, the shipping is very costly and you will get charged VAT at 20% at customs and get a handling charge plus a small delay. So its dearer and more hassle. Alternatively you can email me and I can upload the print to my new UK print site – SkiPrints.co.uk. If you want a framed print.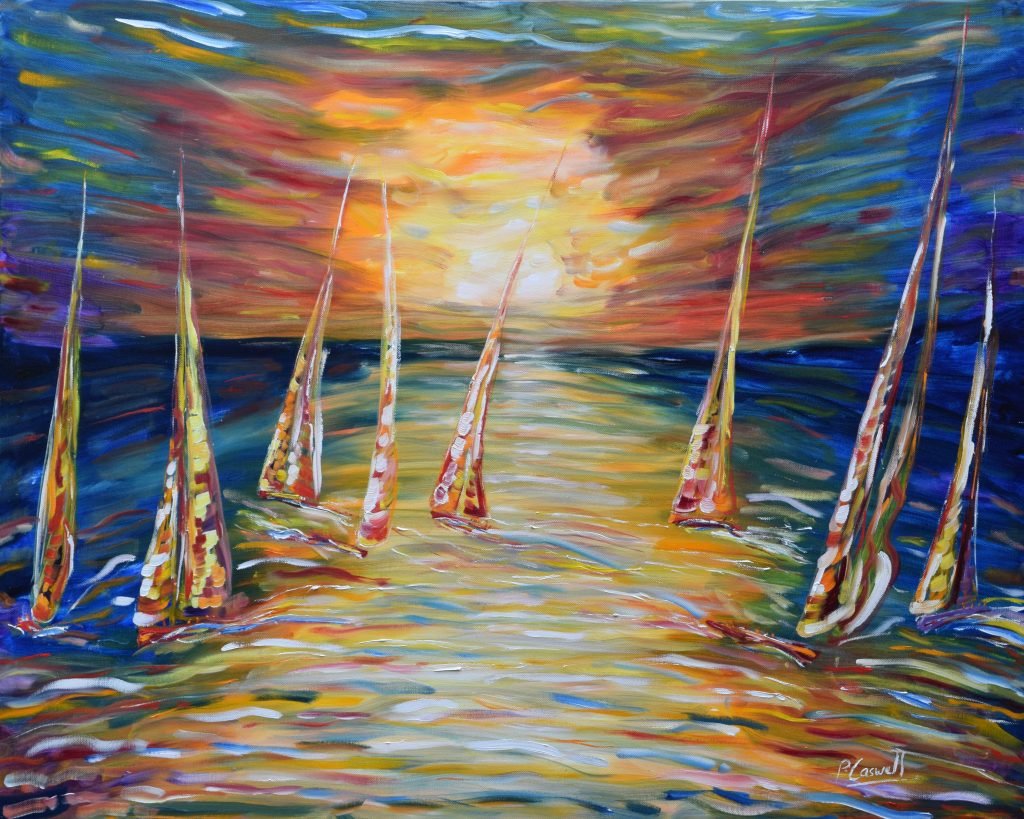 If you missed the previous post and are a keen skier check out the ski paintings on www.petecaswell.co.uk