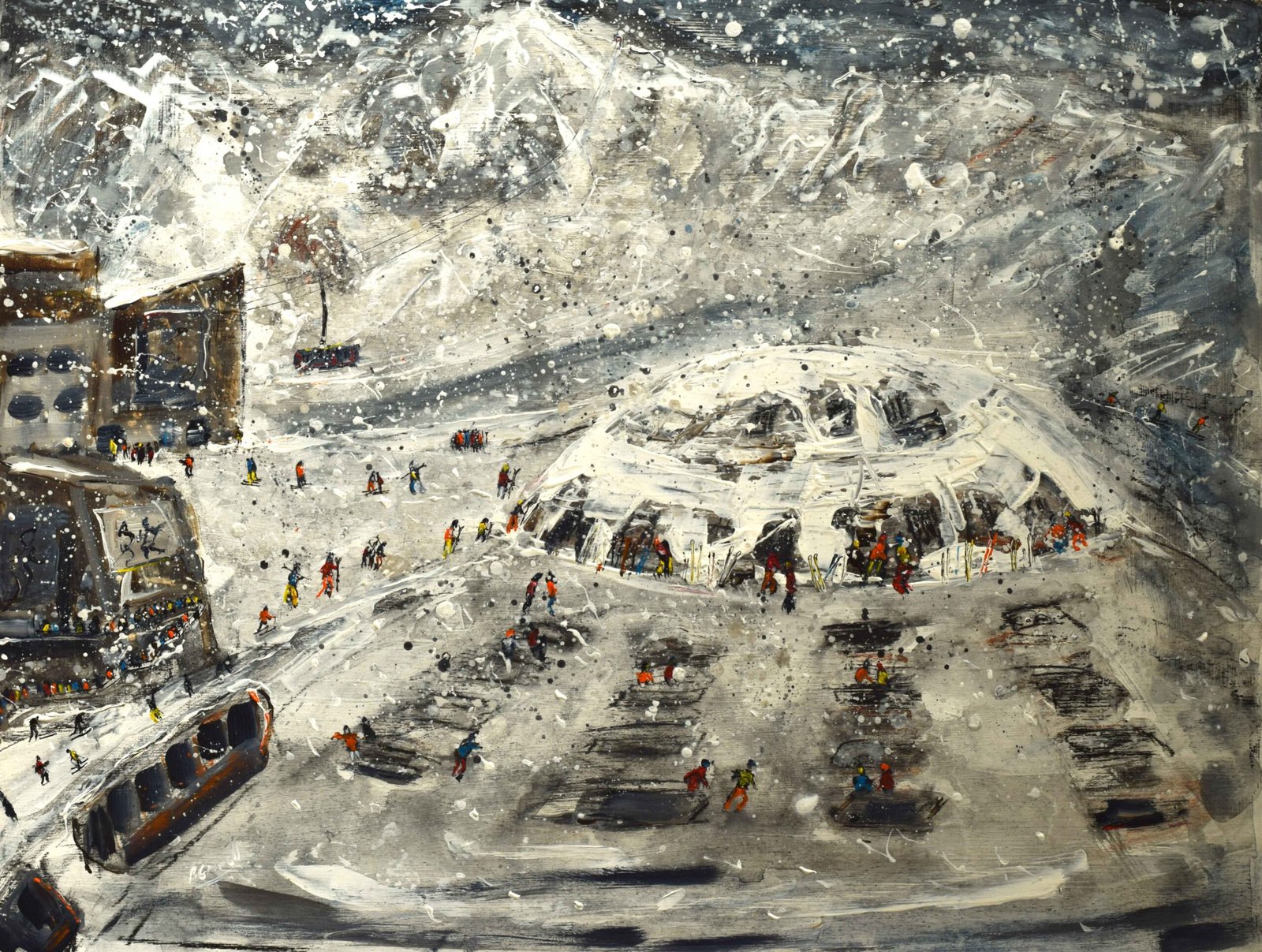 This ski print of Mt Fort above Verbier and Nendaz is one of my favourites. Not because it is neat or tidy or even precise but its very nature captures the atmosphere at this most incredible meeting point at the base of Mt Fort in the depths of a winter storm. This was a bit of old ply I had lying around so I put some white gesso on it and splashed some paint on it without thought or care. When you paint on an old piece of wood it has a transforming effect on the painting. As its already a piece of wood that is redundant with no use, there is nothing to loose you can wreck it and it doesn't matter, and it kind of promotes an instantaneous, risky painting. Sometimes these chance attempts at destruction to capture an atmosphere, a mood work and sometimes not and destruction is fullfilled.
In this case I already had an idea in mind to capture the 3 cable car meeting point and the final destination of the peak Mt Fort in one painting. But it never quite computed as there was too much to fit in, too many angles. This is where the instantaneous point of creation came in and in a few brush strokes everything melted into one place, or froze more to the point. This is why I really like painting on old bits of building materials I find around the studio they seem to insist on this sort of approach where creation forms out of destruction.
I normally tidy up this sort of painting and sort out all the splodges and funny shaped people which all seem to come out of the heat or cold of the moment and the madness of just splashing water and paint around . But this scrappy, splashy and haphazard approach had left something indelible on the canvas (ply) which just had to stay, it was unique and created in the heat of the moment without thought. So a bit wonky, not quite straight, this just captures the scene in mid winter January perfectly, cold and blustery as the storm moves in to dump its beautiful present of powder coating on the mountain. Within the frozen clouds and winds imagination forms. Colours are frozen out, form seems to twist and bend, people half disappear and in the extremes of the mountain cold stuck in a meter of powder without a ski seems like life itself is warping into another reality, another level.
I love it. Not least because it is the premonition of the painting below hidden within it's frozen imagination, of the blue sky sunny skiing in fresh powder to come in the morning below of shrieks and howls in crispy blue sky echoing round the mountain lofty peaks of fun and ouverte exhilaration off bouncing powder cushions and billowing frozen ice.
Ski Prints of Verbier can be found on the international ski print site, but do read the shipping info here first to get local shipping